Treats for the Troops!
Donate Halloween & holiday candy for our military
Find out how to donate Halloween and other seasonal and holidaycandy to troops overseas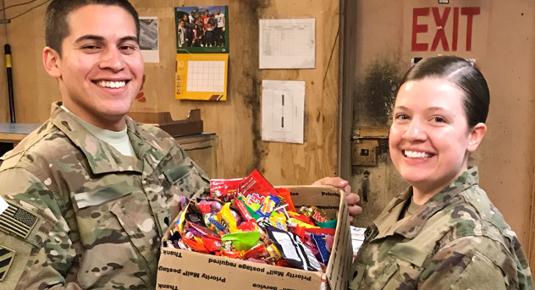 AWCPP wants to take advantage of the season by adding sweet treats and other goodies to the treat bags which we will send in care packages for U.S. troops overseas.
If you have any leftover candy from Halloween trick-or-treating, you may donate them to our troops as part of AWCPP's Halloween Candy Give-Back Program.
DUE DATE: For Halloween 2023, please drop off Halloween candy at one of our Community Drop Box Locations at your convenience. Click here to find a location that works for you.
In addition to candy to fill the treat bags, volunteers are also asking for mini Slim Jim's, packs of individual fruit gummies, chewy granola bars and granola packets.

We also welcome any items on our Ideas for Your Care Packages list to add into these care packages.
Click here for a list of ideas for other care package items to donate.

To find a drop-off location near you, please visit our Drop Box Locations tab.
Click here to see our Drop Box Locations.

To ship your donations, please mail them to:

A.W. Care Package Projects
255 Clifton Blvd., Ste 313
Westminster, MD 21157
© Copyright America's Warriors Care Package Projects